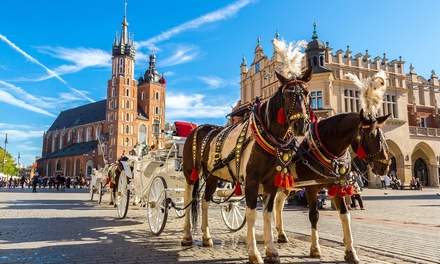 Poland Vacation. Price is per Person, Based on Two Guests per Room. Buy One Voucher per Person.
Book by 3/10/20 or promo value expires. Limit 5 per person, may buy 5 additional as gifts. Limit one per person per trip. Reservation required, inclusions/airfare/airline subject to availability. Additional fees may apply for some departure dates. Fee of 50% of voucher price for 91-day or earlier cancellation notice; fee of 70% of voucher price for 42–90-day notice; fee of 80% of voucher price for 31–41-day notice; fee up to voucher price applies for 30-day or less notice. Airfare nonrefundable after booking. Must be 18+ to check in. Credit card required at booking and check-in. Baggage fees may apply and vary by carrier. Airfare includes carrier and government taxes & fees. Not all tours are handicapped accessible, please contact Fleetway at 646-417-9948 to confirm. A passport is required for all travel outside the U.S. Check the State Department's website for entry/exit requirements. $500 (4-night package) or $550 (5-night package) fee to travel solo.
Experience Poland's vivid history by walking Warsaw and Kraków's cobblestone streets; includes airfare and stays at two 4-star properties
Fleetway Travel: 3,000+ of our travelers served since 2017
You're viewing properties from our Premium Collection, a selection of top properties that are guaranteed to have a rating of 4 stars or higher.
Explore Poland's Biggest Cities at Your Own Pace
Flights & Transportation:
Round-trip airfare from

New York (JFK)
Newark (EWR)
Boston (BOS)
Chicago (ORD)

For additional departure airports/pricing, contact Fleetway Travel at 646-417-9948.
Airline & flight times determined at time of booking
5-Day Package Hotels (4 nights + 1 overnight flight)
6-Day Package Hotels (5 nights + 1 overnight flight)
Ideas for Your Vacation
Though Polish heritage runs strong through America, there's no substitute for the homeland itself. During this vacation from Fleetway Travel, you'll visit some of Poland's most important sites, including the capital-city streets of Warsaw and medieval sites in Kraków.
The Warsaw Rising Museum documents the city's brave resistance to Nazi occupation in 1944.
Warsaw's Old Town, a UNESCO World Heritage site, is home to reconstructed cobblestone streets and an abundance of museums, churches, and traditional Polish eateries.
Kraków's Main Market Square, otherwise known as Rynek Glówny, is the world's largest, still-existing medieval market square and is a great place to grab a bite to eat or pick up a souvenir.
Auschwitz-Birkenau is about an hour's drive from Kraków and is a somber reminder of the atrocities endured during WWII.
Call Fleetway Travel at 646-417-9948 for Questions About:
Flying from any airport not listed here
Extending your trip or traveling on dates not listed here
The availability of your desired travel dates
Traveling with kids; all travelers, including kids, must purchase a voucher
Booking optional tours and upgrades
Optional Tours & Upgrades
Warsaw hop-on-hop-off sightseeing tour (from $21 per person)
Auschwitz-Birkenau Museum tour (from $49 per person)
Expired On March 10, 2020